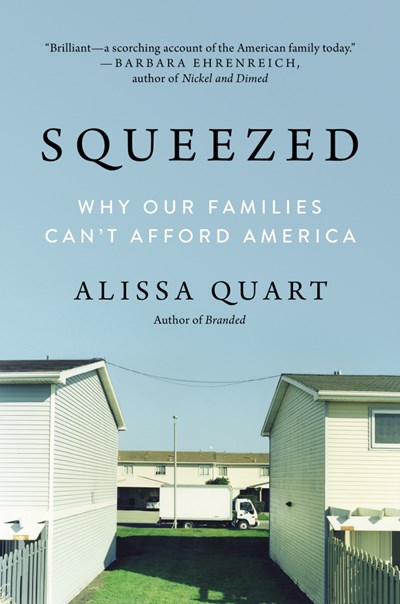 Squeezed: Why Our Families Can't Afford America (9780062412256) by Alissa Quart. Ecco. $27.99 hardcover. 
ARC: February 2018
On Sale: June 26, 2018
This is social issues nonfiction that reads like a long magazine article—and I mean that in the best possible way. It's filled with well-drawn, compelling stories that pull the reader along as Quart builds a case about American middle class families struggling to keep their heads above water.
Chapter by chapter she lays out the increasing pressures that drive families to the edge of poverty: college debt, daycare, housing, wage stagnation, underemployment, automation. And behind it all is American breadwinners' collective feeling that they themselves are to blame for "bad choices."
Long on compelling stories, this absorbing read felt sketchy when it came to solutions. In that way it reminded me of the uber text of this sort of social issues narrative: Barbara Ehrenreich's Nickeled and Dimed (and indeed Ehrenreich blurbs this book). That book was similarly frustrating on a policy and action level. But at the end of the day, the picture Ehrenreich drew of the systemic plight of the working class woke up America. Quart's stories of everyday Americans struggling and looking for solutions is likewise bracingly vivid—and hopefully as eye-opening as Ehrenreich almost two decades ago.