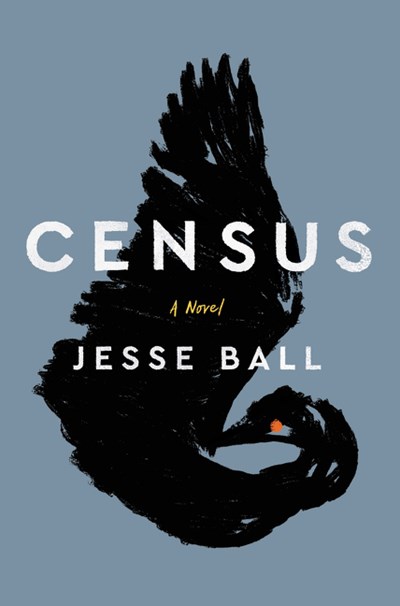 We read for lots of reasons—to learn, to distract, to entertain ourselves. But the richest reason we read is to experience the fullness of our humanity. In a culture that more and more uses communication in service of the quick jolt, reductive emotion and brutish hair-trigger reaction, books like Census are an antidote for a kind of emotional ADD.
Readers familiar with Ball will recognize the world of Census­–a landscape at once mysterious and quotidian. In it, a dying widower decides to spend his last days traveling with his grown son, a young man with Down syndrome. The father quits his job as a doctor and takes a position as a census taker, a job that will allow him and his son to travel from the center of the country they live ("A") outward to the farthest province of "Z".
That's it plot-wise. The father reports to us of their travels; he remembers his marriage and his family life; he observes how people interact with one another. This slightly dystopic country and the vaguely ominous census are only the scaffolding of the book, not the point. Ball explains the point in his moving introduction: He writes that he wanted to illuminate the love he felt for his deceased brother, who had Down syndrome. Of that love, he says, "It is not like what you would expect, and it is not like it is ordinarily portrayed and explained. It is something else, different than that." Indeed. By showing us the journey of these two, how the people along the way react to them, something remarkable happens. Parnassus bookseller Halley Parry captured it in her Indie Next nomination:
Sentences inspire double takes, characters jump from the page to life, and a transformative journey is undertaken for both the reader and the characters. As the end of the alphabet approaches, the landscape becomes more haunting, and the reader learns more about love and death than I thought was possible in a single book."
Along with being chosen as an Indie Next Pick, Census received three starred advance reviews, was selected as a book of the month by Entertainment Weekly, Harper's Bazaar, the BBC and LitHub—and there was a lovely interview with Ball on NPR's Weekend Edition Saturday.
Major reviews have landed in the NYT, Washington Post, LA Times and LA Review of Books. It's interesting to read them all—you can hear how affected reviewers are by the read. While they come to the story in a variety of ways, I think most would agree with author David Mitchell's assessment: "Census is a vital testament to selfless love; a psalm to commonplace miracles; and a mysterious evolving metaphor. So kind, it aches." You'll be glad you took the journey.
[Comparisons] do Census an injustice. It's a transcendent, consummately strange sketching of the human condition. Traveling his path, Ball takes you from A to Z (literally: the alphabet's 26 letters are what each visited town is called); but even so, there are few time markers, no character names — only a window into one man's goodbye tour. The enveloping sense of decay risks overwhelming Census, but in the end, it's balanced out by the sheer wonder of inspecting what is not easily understood. Explore with Ball, fall into his quirky rhythms, and you'll discover a burning plea for empathy. It will break your heart."
— Entertainment Weekly
"This point — about the beautiful varieties of perception, of experience — made without sentimentality, burns at the core of the book, and of much of Ball's work, which rails against the tedium of consensus, the cruelty of conformity. In one home, the father and son come across a couple whose daughter had Down syndrome. "I can see from the way you are with him that you see — you see what we saw, that they experience the world just as we do, and maybe even, maybe even in a clearer light," the woman says. I can think of no higher praise for this novel than to echo what this woman tells the father for traveling with his son, for letting the world experience his gift: 'I think you cannot know the good you do.'"
— The New York Times
"The novel's twin themes, the limits of empathy and language, are explored from every angle in living room census interviews that more closely resemble religious confessions than a bureaucratic process…. Though Census reads, at times, like a protracted parable, it eschews tidy lessons. The result is an understated feat, a book that says more than enough simply by saying, 'Look, this is how some people are.'"
— The Washington Post
While Ball is willing to stick his neck out and write a narrative as plainly sincere as a medieval morality play, he also makes space for complexity, the flux of things, the slipperiness of truth and knowledge. Case in point: the novel's central hollow, which both allows Ball to write about his brother without diminishing his memory with words, and forces readers to participate in imagining him. The hollow is rich and generative, a lacuna of a kind Ball has mastered."
— The Los Angeles Times
"This is a novel about how compassion and love move far beyond familial duty…Ball does an excellent job of revealing his [narrator's] experience of life's aches and joys…Ball provides a finish suitably heartbreaking and redeeming…An odd, poignant, vitalizing novel well worth the journey."
— Los Angeles Review of Books
"Ball's latest is an intensely moving and dazzlingly imagined journey…This novel is a devastatingly powerful call for understanding and compassion."
— Publishers Weekly (starred review)
"Ball here offers a quietly epic work. … Focusing on how to protect our own after we are gone in the face of ignorance, cruelty, and disregard, this work combines a travel adventure with a meditation on human kindness to create a deeply perceptive work of essential truths. Highly recommended."
— Library Journal (starred review)
"Ball takes a matter-of-fact approach to surreal situations, which he deepens with finely rendered and realistic thoughts and emotions. His latest mysterious, mesmerizing, and insightful fairy tale is an imaginative and tender tribute to his late brother…. Ball's mind-bending, gorgeously well told, and profoundly moving fable celebrates a father's love for his son, whose quintessence is to inspire people to be their better selves."
— Booklist (starred review)
Census (9780062676139) by Jesse Ball. $25.99 hardcover. 3.6.18 on sale.